Axial Yeti™ SCORE® Trophy Truck® 1/10 4WD RTR
Video
AXIAL YETI SCORE 4WD ARTR TROPHY TRUCK
The Yeti™ SCORE® Trophy Truck® RTR is THE ONE that Axial have been working towards for a long time! For authenticity, it had to be solid rear axle versus the commonly accepted independent suspension all the way around. Some would consider this "going backwards." But Axial didn't just accept what the establishment said was the only way, we wanted true scale looks with the functionality to match. When Axial delivered the Yeti™ Rock Racer with its IFS front end and solid rear axle, they knew then we had the key ingredients to deliver the vehicle of our dreams.
This desert racing series was the early inspiration for short course racing events, as organizers tried to bring desert racing to the masses in confined spaces. That's right, short course off road racing was born in the desert. In true Axial style, we brought you a new R/C vehicle replicating desert racing's top level competition vehicles, the SCORE® Trophy Truck®. Axial didn't stop there. We partnered with the top companies actively developing their products through desert racing to take authenticity to the next level. The Axial SCORE® Trophy Truck® is suspended by a set of aluminium King Shocks rocking the iconic blue shock caps, rod ends, ride height adjusters and springs. King Shocks is a company who has all but dominated the sport through the years providing the latest technology known to man to conquer the harsh terrain of Baja.
---
Axial Yeti Score 4WD ARTR Trophy Truck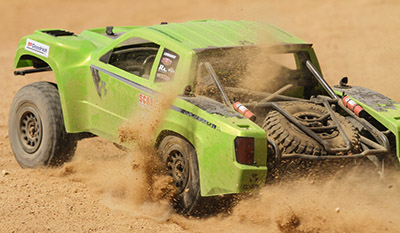 The Yeti™ SCORE® Trophy Truck features an Independent Front Suspension [IFS] system to help maintain high-speed stability when running through a diverse range of terrain. The IFS system allows you to better control the intended direction of travel at high speeds when one side is adjusting to overcome road obstructions. This stability that the IFS front end provides is paramount when blasting through the desert. Backing up the front suspension is the AR60 rear axle with a true 4-link design that cycles nearly 3" of wheel travel.
Axial Yeti Score 4WD ARTR Trophy Truck Scale Detail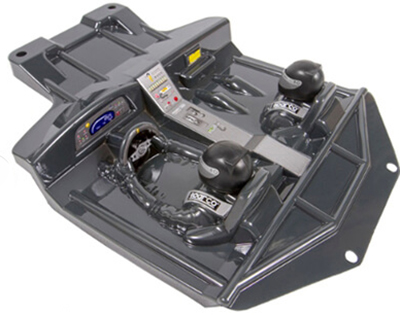 Realistic scale details include: polycarbonate interior tray with moulded driver figures and dashboard, three pairs of black styrene helmets (Sparco™, Moto-X, Skully), moulded exhaust outlets, moulded grill, and moulded hood vents. We've also included moulded plastic light buckets at all 4 corners. Simply add our LED lights and controller for a street legal pre-runner.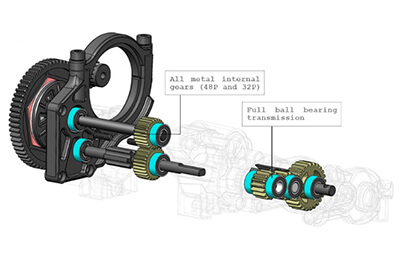 Axial Yeti Score 4WD ARTR Trophy Truck Hi-Lo Gearbox
The Axial Hi-Lo transmission was specifically designed for the Yeti chassis. With all metal internal gears, this full ball bearing transmission has the strength to endure the harshest rock racing environment and brushless power. The factory gearbox comes as a single speed with the high gear installed for high speed fun. The integrated motor mount features a wide range of movement for endless gearing options.
NOTE: optional two-speed transmission component sold separately (AX31181).

Axial Method 105 Replica Wheels and BFGoodrich Baja T/A KR2 Tires
Based off the popular Method 105 machined wheels, these officially licensed wheels are dressed in an aggressive all black style and compatible with most 2.2/3.0 short course tires. The hub design allows this wheel to mount to any YETI™, Wraith™, AX10™ or SCX10™
In the full-size off-road world of Trophy Truck® racing, BFGoodrich® Baja T/A® KR2 tires are the obligatory 'go-to' tire and responsible for winning numerous Baja championships. The Axial version of this tire captures the same aggressive look and provides awesome performance on a wide variety of surfaces. This is the perfect tire for this style of vehicle due to its high level of performance and diversity.
---
Axial Yeti SCORE Trophy Truck ARTR Features:
Axial 2.4ghz radio system
Water resistant 3150kv brushless motor
AR60 OCP-axle, solid rear axle, 4-linked
WB8 hd wildboar rear driveshaft
WB8 hd center cvd joint – front
Independent front suspension
2.2/3.0 BFGoodrich Baja t/a KR2 tyres (SB40 compound)
2.2/3.0 Method 105 replica wheels
Long travel rear sway bar
Adjustable aluminium shocks
Easy access battery tray
Protective transmission cover
Hi-lo transmission
Waterproof receiver box
Dual slipper clutch
Spare tire mount
Realistic scale details
Dual shear steering rack
>
Spec Check:
Length: 23" (583mm)
Width: 12" (305mm)
Height: 8.3" (210mm)
Wheelbase: 14.2" (360mm)
Ground Clearance: 1.7" (43mm)
Weight: 6.65lbs (3kg)
Motor: Brushless 3150KV 4 Pole Electric Motor
Radio: Tactic TTX300 3-Channel SLT Radio
Servos: Tactic TSX45 metal gear servo
ESC: Vanguard AE-3 ESC, 3S LiPo, 8 NiCELL, Forward / Reverse, Waterproof
Please Note: This kit in sold in ARTR (Almost Ready-to-run) format and requires a battery, charger, and 4 x AA batteries for completion.