Yokomo YD-2SXII RWD Drift car chassis KIT
Chassis kit without electronics.
The Yokomo YD-2SXII`s overwhelming rear traction due to the high mount motor layout, YD-2S series has been dominated RC drift competition in the world. Especially the top range model YD-2SX has now renewed with new developed curved slide rack system, it is exactly an out of box ready for the battle in the world – the new birth of "YD-2 SXII!!!
Based on the luxurious graphite luxurious main chassis, various aluminum / graphite options are equipped with. It is also possible to change the balance of weight and rigidity of the car, and it is possible to draw the machine characteristics according to various driving styles. Aluminum parts such as front bulkhead and shock tower are given abevel edge treatment of black anodize for luxury appearance. It is exactly the finish that can be said as "the supreme machine"
Features:
Length:425mm

Width:198mm

Wheelbase:256mm

Second reduction rate:1:2.6

Over all weight:1500g

NEW!! Curved Slide Rack

High mount motor

4 Gear rear transmission

New designed, Sealed gear box

Aluminum front bulk head

4 wheel independent double wishbone suspension

SLF aluminum big bore oil dumber

Carbon graphite main chassis

Carbon graphite chassis plate

Aluminum front/rear shock tower

Adjustable Special aluminum motor mount system

49mm bone rear universal shaft

Narrow scrub steering block

Wide/Narrow rear diffusor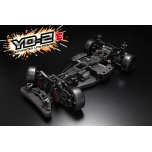 SKU:
YOK-DP-YD2EG ,
Qty:
Temporarily out of stock.
,
Delivery time:
Special order
259,00 €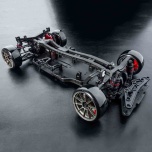 SKU:
MST532161 ,
EAN:
4046032082238 ,
Qty:
1
199,00 €

(4.78%)
209,00 €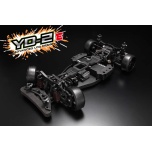 SKU:
YOK-DP-YD2E ,
Qty:
Temporarily out of stock.
215,00 €