TLR 22X-4 1/10 4WD Buggy Race Kit
Omadused
Kardaanülekanded
Täielikult seadistatav vedrustus
Parima kvaliteediga materjalid ja detailid
2.5 CNC alu põhjaplaat
G3 12mm Big Bore amordid
Hammasdifrid
Seadistatavad seesmised õõtsahoidikud (A, B, C ja D plokk)
Optimeeritud vedrustuse detailide komposiitmaterjalid
Elastomeerist akukinnitus
"ujuv" Servokinnitus
muudetav mootori ja aku paigutus
Uudne 22X-4 keredisain
Optimeeritud karbonfiiber detailide kasutamiseks
All Metric Hardware
TLR 6.5" tagatiib
Kergesti ligipääsetavad diferentsiaalid
Integreeritud mootori jahutusventika kinnituskoht
Ülevaade
TLR-i uus 4WD bagi on loodud täiesti nullist. Varasemalt tuntud rihmülekanne on asendatud kardaanülekannetega, mis annab suurema töökindluse ja lihtsuse mudeli hooldamisel. Mudeli loomisel ei ole disainerid end tagasi hoidnud. Tipptasemel omadused ja koostisosad on pandud karpi, et saakid ehitada endale kohe rada domineeriva bagi ja sõita kõrgeimale positsioonile ila, et peaksid hakkama lisama kalleid tuuningjuppe.
Lisaks kitile vajad (ei ole komplektis)

Mootor (540-size sensoriga harjadeta mootor)
Kiirusregulaator (ESC)
Rooliservo
Raadiosüsteem
Laadija
LiPo aku (2S shorty)
Värv kere värvimiseks
Tööriistad mudeli ehitamiseks
Rehvid
Pinion (mootori hammasratas)
CA liim
Mis on komplektis?
(1) TLR® 1/10 22X-4 Race Buggy Kit (detailid mudeli veermiku ehitamiseks)
(1) Toote ehitusjuhend (inglise keeles)

NB! Piltidel näidatud elektroonika ei kuulu komplekti!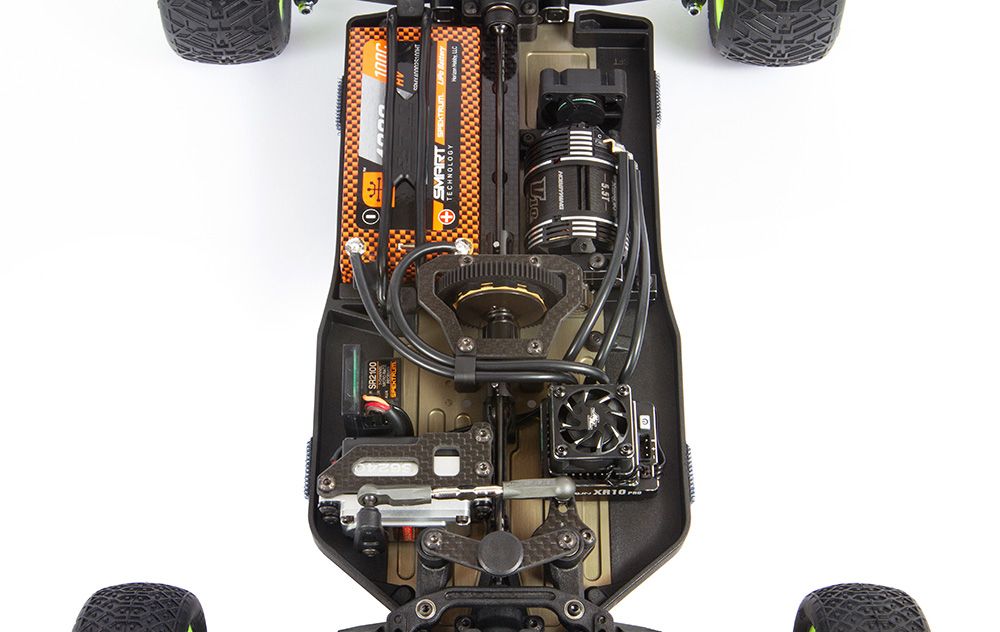 Shaft Drive Platform
Taking a completely different approach to a TLR 4WD buggy, the R&D team developed an all-new platform from the ground up. Switching to the more reliable and versatile shaft drive design, the 22X-4 is much lighter and has far improved driving characteristics while also being significantly easier to build and maintain.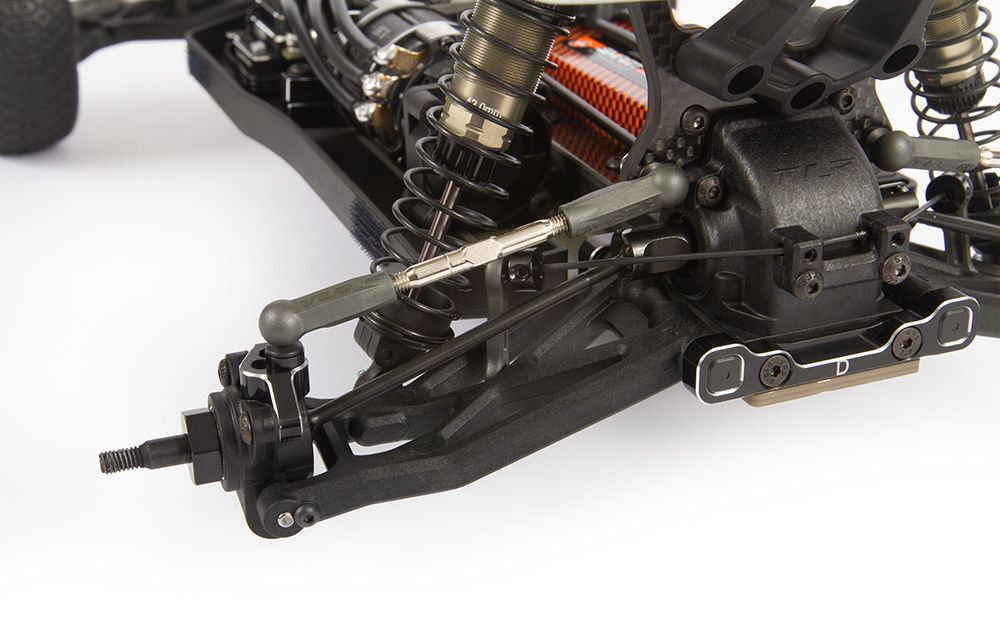 Fully Adjustable Suspension
Taking suspension tuning to a new level, the 22X-4 has adjustments for front and rear axle height, rear axle pin position, inner front and rear hinge pin position in all directions, nearly unlimited rear camber link positions, shock mounting positions, and much more. The 22X-4 can be dialed in for any surface, grip level, or driving style.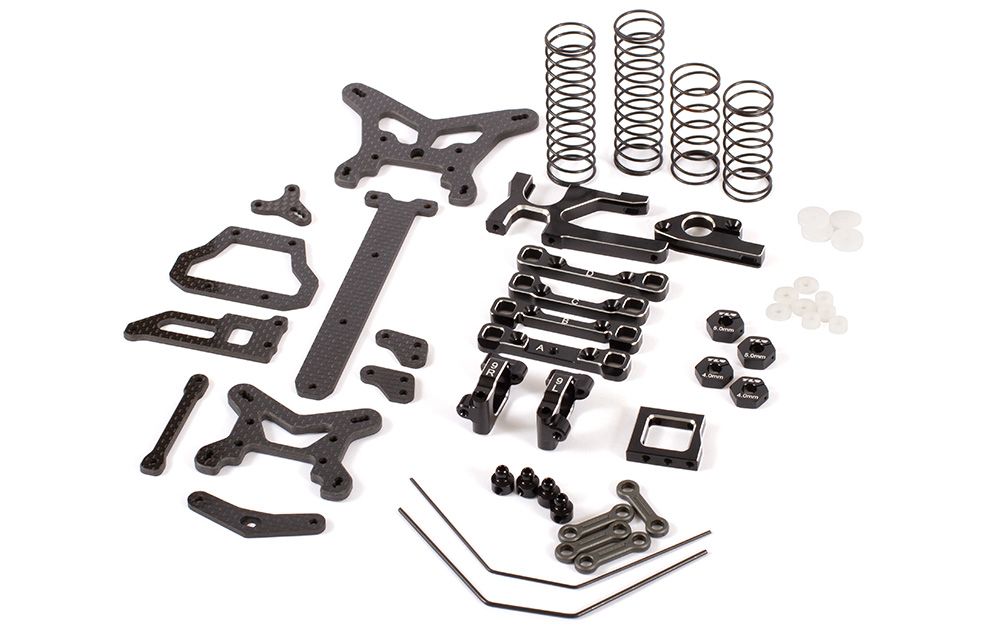 Premium Parts Included
The 22X-4 includes a healthy list of included premium parts: Aluminum Ball Stud Washers throughout, Aluminum Clamping Hexes, Adjustable Aluminum Suspension Mounts, Carbon Fiber Plates, Full Machined Shock Internals, TLR Low Frequency Springs, Aluminum Motor Mount, and Sway Bars.
2.5 Milled Aluminum Chassis
Maximizing the flex characteristics for all surfaces, the 2.5mm thick chassis with heavy pocketing gives the correct amount of flex and rigidity for smooth corning, optimized balance, and bounce-free landings.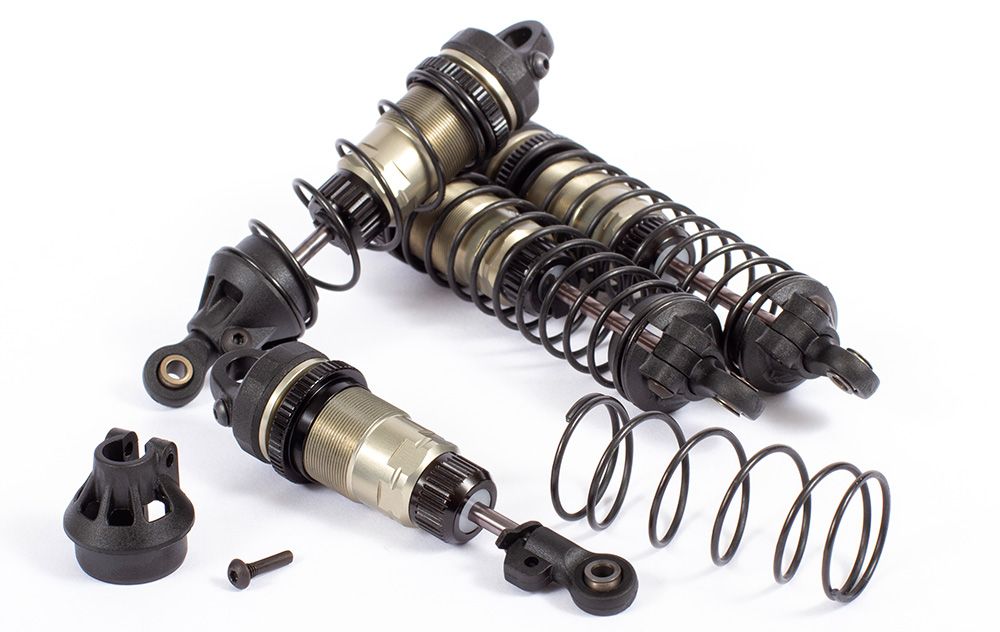 G3 12mm Big Bore Shocks
G3 12mm Big Bore Shocks: The G3 shocks give the 22X-4 the plush handling and consistent, leak-free bleed with some ease of use improvements. No more e-clips as the pistons are now secured by screws, new shock caps and shock bodies increase the spring collar height by 3mm to accommodate lower ride heights, new eyelets and spring cups provide -3mm, 0mm and +4mm spring cup off-sets and paired with all new eyelets will never pop off with the screw in feature. The new eyelets are also made in two lengths that allow racers to switch between normal and +3mm rear axle height without needing to change stroke or up-travel, and work with revised shock balls that finally slide into the front arms smoothly and easily.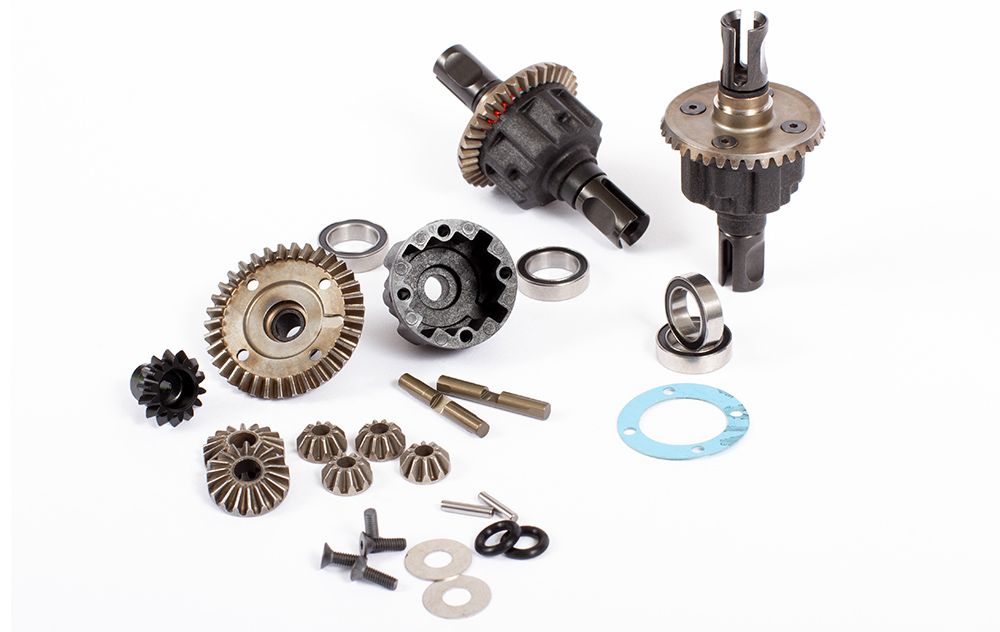 All New Gear Diffs
Designed to be light and durable, the 22X-4 is designed with large volume bevel gear diffs for the ultimate in performance and durability. The kit includes all metal diff internals with hard anodized aluminum cross pins. Not to leave spec racers behind, composite diff internal gears as well as composite ring and pinion options are available separately.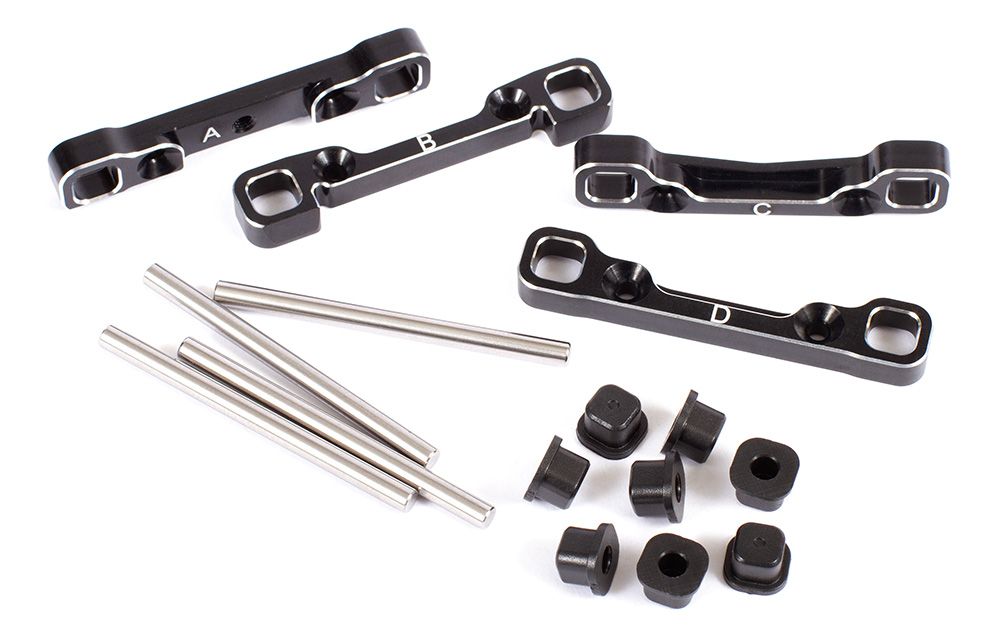 Adjustable Inner Pivots
Included front and rear, adjustable inner pivots give multiple adjustments for anti-squat, kick up, toe, sweep, pivot width, and roll center. This gives the 22X-4 the window needed to get it dialed in for any driver, any track, and any surface.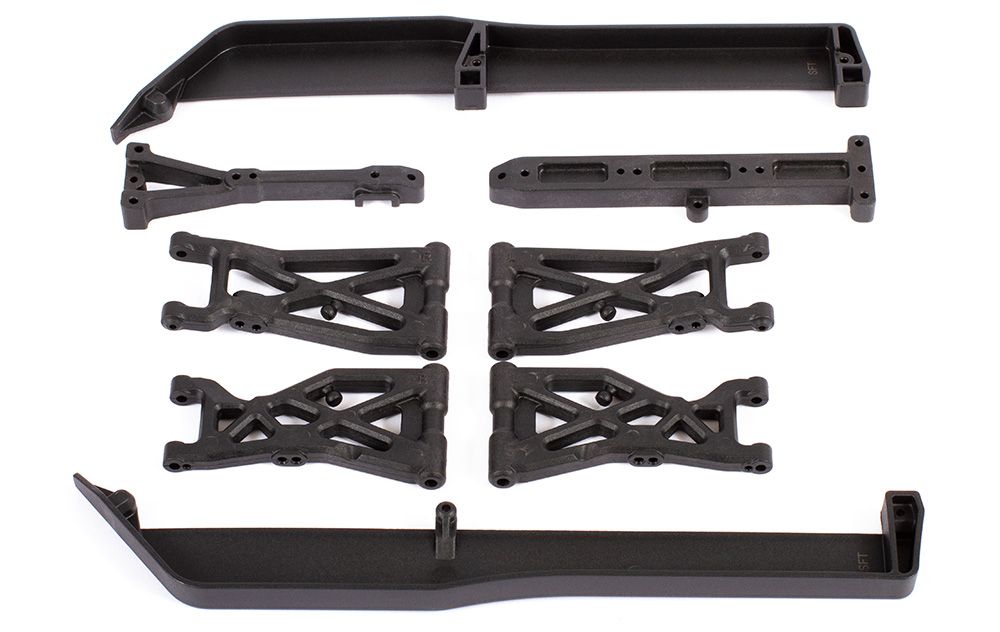 Optimized Composites, Stiffezel
The balance and consistency of the 22X-4 can be tuned using different composite materials in key parts throughout the vehicle. The kit included the parts the race team prefers: Standard front and rear suspension arms along with soft mud guards.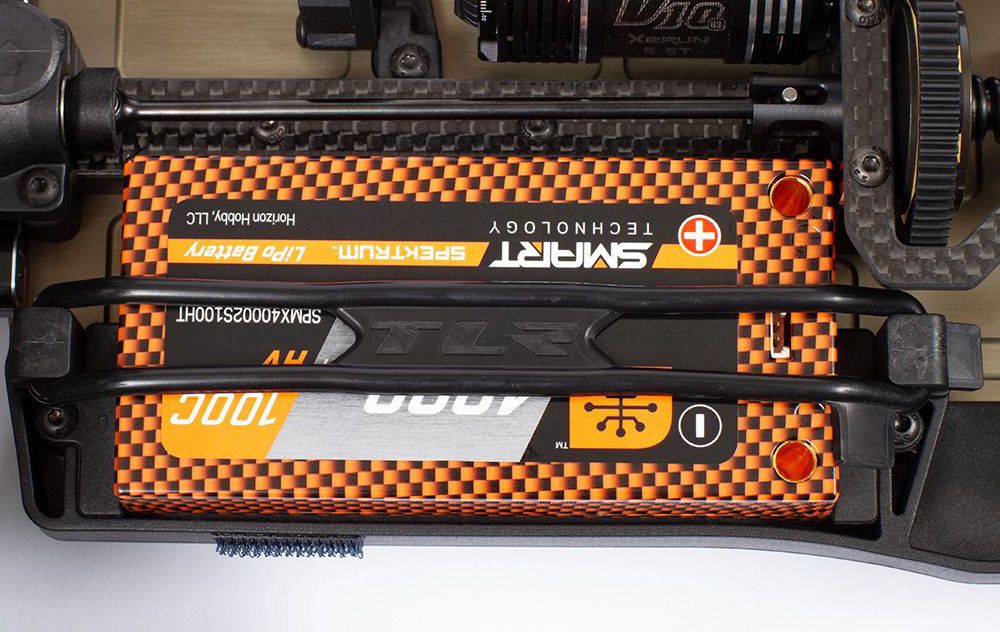 Elastomer Battery Mounting
The 22X-4 borrows from the 22 5.0's versatile and easy to use battery hold down system. With a similar elastomer band, the battery strap hooks into the chassis front and rear allowing for different height batteries to be installed without hassle. Battery position is controlled with secured, easy to adjust battery stops both front and rear.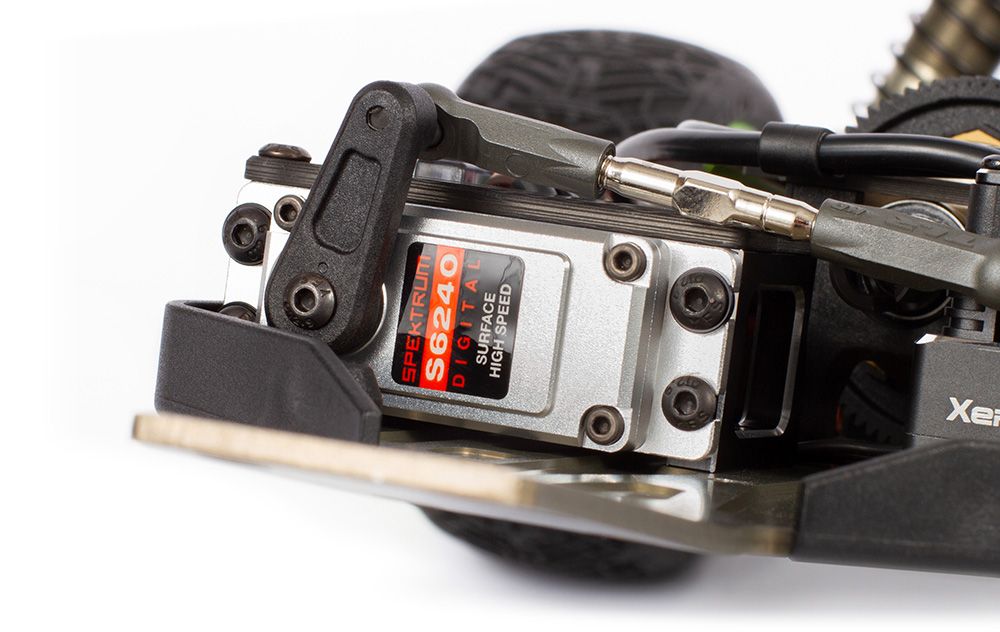 Floating Servo Mount
To keep the servo mount from affecting the chassis flex, the servo is mounted hanging above the chassis. The mount only secures to the chassis plate near the chassis centerline, then uses rigid 2.5mm carbon fiber to support the weight and leverage of the servo to optimize steering performance and chassis flex.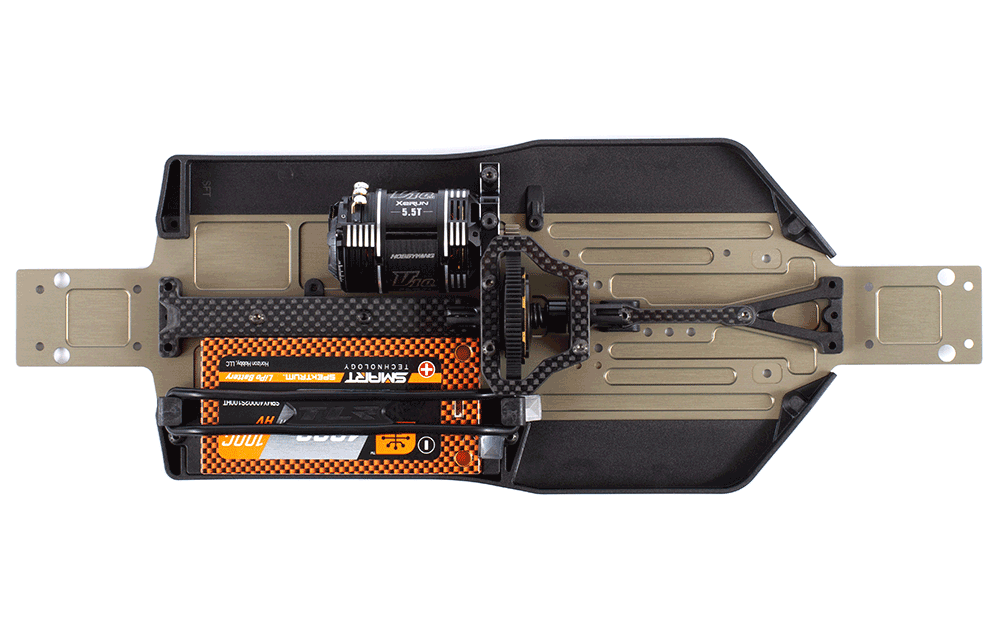 Adjustable Motor and Battery Position
The 22X-4 allows for the center slipper and motor mount assembly to be mounted in either front or rear positions, with 7mm of adjustment between them. The battery also has an additional 9mm of adjustment for solid changes to front/rear weight balance without the need to increase the static weight.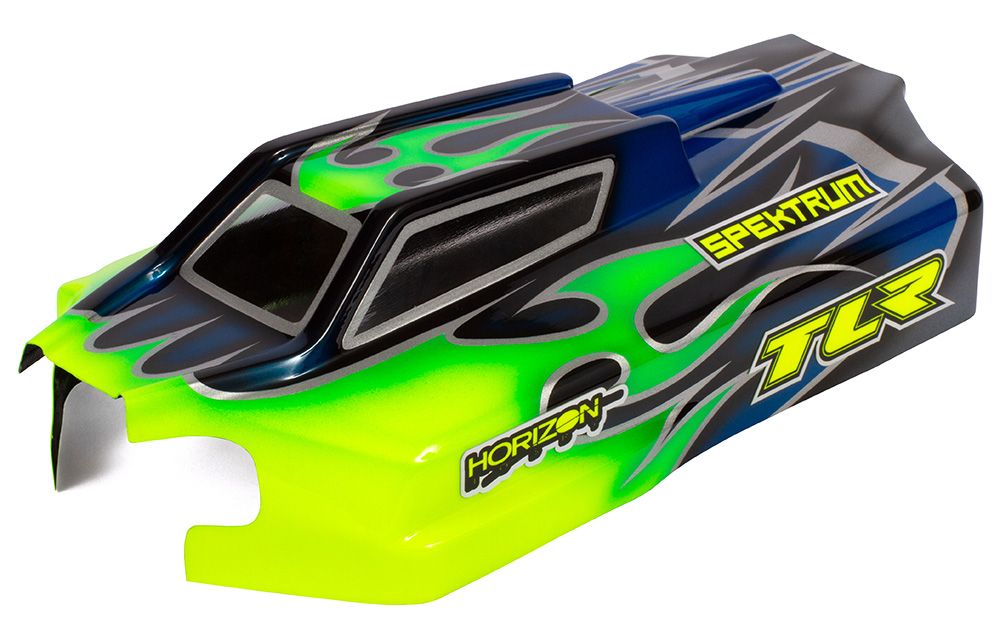 Fresh 22X-4 Body Design
Sleek and stylish, the 22X-4 body design is the perfect match to the chassis. It looks sleek and fast, is nice and low but provides excellent balance and stability - the best of all worlds.
Carbon Fiber Optimized
Carbon fiber is extremely light and very rigid, given its great strength to weight ratio. It is optimal for many parts of an r/c car, and the 22X-4 has it in all the key spots: Front Shock Tower, Rear Shock Tower, Center Diff Mount, Front Chassis Brace, Rear Chassis Brace, Front Steering Mount and Servo Mount.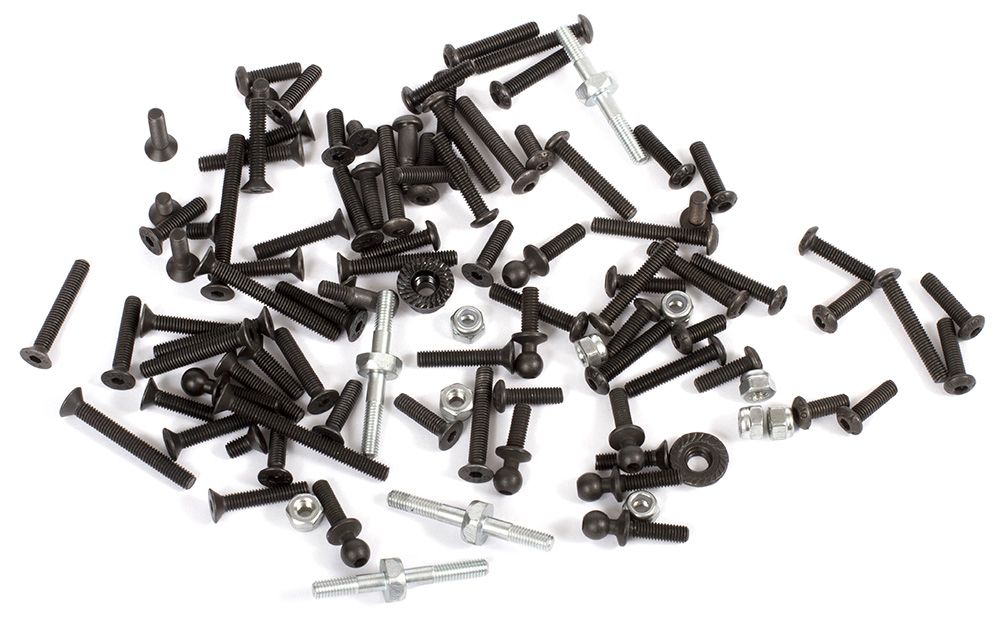 All Metric Hardware
Using all metric hardware make it easy to find replacement screws, nuts and washers, and helps to limit the number to tools required in the toolbox.
TLR 6.5" Rear Wing
Pulled from ultra-durable 1.2mm polycarbonate, the TLR 6.5" rear wing isn't new for the 22X-4. Instead, this wing has proven itself as the longest lasting and most stable rear wing available for 1/10 buggies over the past several years - and it comes in this kit.
Easy Access Diffs
Designed to be user-friendly, the 22X-4 allows the front and rear diffs to both be removed by only removing four screws, and loosening one set screw. The diffs come out in less than a minute, and back in just as quickly.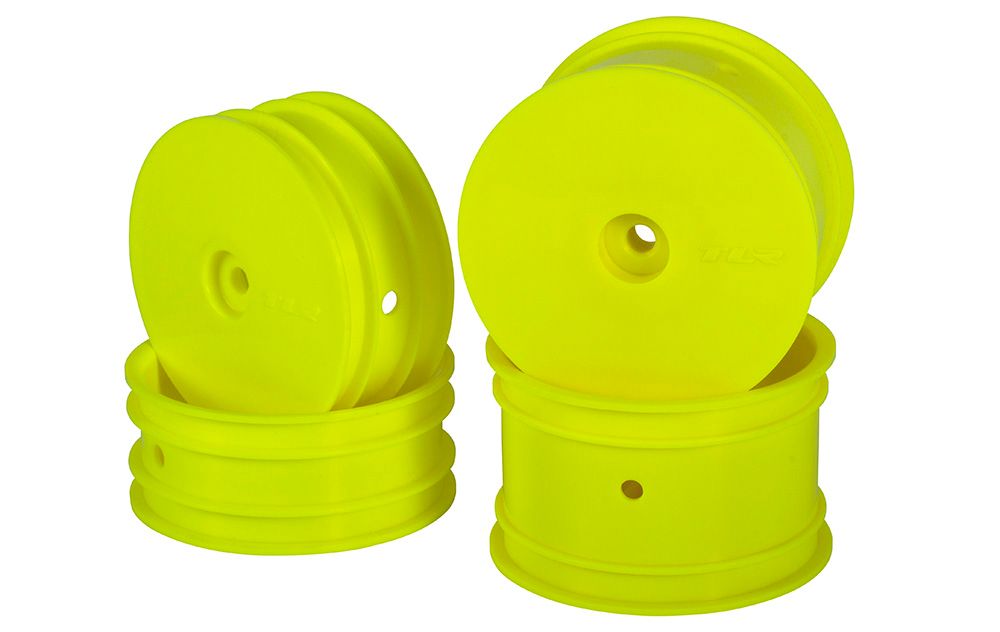 Wheels Included
The 22X-4 includes a full set of fluorescent yellow wheels to get racers on the track quickly. The 22X-4 does include the new deeper off-set front wheels which provide improved hex engagement, and a stiffer wheel face for more consistent performance.
Built-In Motor Fan Mount
The prevalence of high grip tracks and the 13.5 4WD class have led to the need for many racers to run motor fans to keep temperatures in check. Rather than an aluminum mount, or double-sided tape, the 22X-4 includes a molded fan mount secured to the mudguard for easy and dependable fan mounting without any extra holes in the chassis.
Specs
| | |
| --- | --- |
| Approximate Assembly Time: | 3-5 Hours |
| Ball Bearings: | Full set, rubber sealed |
| Batteries: | 2S LiPo (sold separately) |
| Body: | 22X-4, 0.7mm thick lightweight |
| Brakes: | Integral with ESC |
| Bushing Material: | Metal |
| Charger: | Sold separately |
| Chassis: | 0.098" (2.5mm) thick 7075-T6 milled aluminum plate |
| Completion Level: | Kit |
| Differential: | Large volume bevel gear diffs |
| Drivetrain: | 4WD Shaft Drive |
| Gear Pitch: | 48-Pitch |
| Height: | 5.8" (148mm) |
| Internal Gear Ratio: | 2.5:1 |
| Length: | 14" (356mm) |
| Max Battery Dimensions: | 3.78 x 1.85 x 0.87" (96 x 47 x 22mm) |
| Motor Size: | 36mm brushless (sold separately) |
| Motor Type: | Sold separately |
| Pinion: | 16T |
| Radio: | 2-channel (sold separately) |
| Servos: | High-torque steering servo (sold separately) |
| Shock Type: | Oil-filled 12mm Big Bore |
| Size/Scale: | 1/10 |
| Speed Control: | Sold separately |
| Spur Gear: | 78T,81T |
| Suspension: | Lower A-arm, upper adjustable link, Stiffezel front and rear arms |
| Track: | Front and Rear 9.8" (250mm) distance between outer edges of tires measured side-to-side |
| Vehicle Type: | 4WD Buggy |
| Water-Resistant: | Yes |
| Wheel Diameter: | 2.2" (56mm) |
| Wheel Hex Size: | 12mm Hex |
| Wheel Type: | 22 dish |
| Wheelbase: | 11.2" (283.5mm) |
| Width: | 9.8" (250mm) |