MST RMX 2.0S 2WD Drift KIT rear motor wheel base 257mm
RMX S 1/10 scale 2WD EP Drift Car KIT
The RMX S is supplied as a kit. All parts are sorted by assembly. The ingenious design allows for higher drift speeds and ensures a very simple but efficient steering behavior. The chassis is extremely stiff and nearly unbreakable. The structure of the top deck with its struts ensures very good cooling of the electronic components. Extremely large and variable steering deflections by Ackermann control increase handling. The efficient transfer of the force via steel CVD'S to the rear axle allows a very sensitive throttle g of the acceleration and the brake. The motor and the steering servo can be installed in 2 different positions to adjust the center of gravity according to your needs. The RMX S is the ideal drifter for beginners and due to its variable design also suitable for professionals.
Features:
Kit with high quality components
Shock-resistant chassis
Rear motor mount in 2 positions
Fully ball bearing
Realistic disc brakes and brake calipers (deco )
Full metal gear box in a dust-proof box
Hydraulic shocks
Technical Specifications:
Wheelbase: 257mm
Width: 190mm
Angle adjustable: 6, 8, 10, 12 degrees
Camber adjustable: 0 to -12 degrees
Delivery includes:
Kit with high quality components
Required accessories:
Body shell
2-channe remote control (3 channels for special functions such as light, sounds a.s.o.)
Motor (Brushed or Brushless)
Speed Controller
Steering servo
Battery
Charger
Tires and rims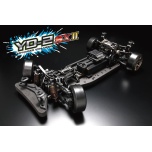 SKU:
YOK-DP-YD2SX2 ,
Qty:
Temporarily out of stock.
599,00 €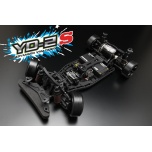 SKU:
DP-YD2SG ,
Qty:
Temporarily out of stock.
249,00 €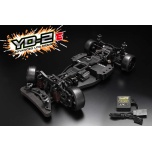 SKU:
DP-YD2EG ,
EAN:
639342154753 ,
Qty:
1
249,00 €