Traxxas Sledge 4WD 1/8 Truggy RTR, Green (w/o battery/charger)
Video
REDEFINING 1/8 SCALE OFF-ROAD
Engineered. Tested. Built to a higher standard. The all-new Sledge is made to exceed your expectations for quality, toughness, and fun. The rock-solid chassis, massive steel drivetrain, ferocious 6s power, and race-inspired handling leave everything else in the dust.
Length (including wing):
23.78 inches (604mm)
Front Track:
18.10 inches (459mm)
Rear Track:
18.10 inches (459mm)
Ground Clearance:
1.95 inches (50mm)
Weight (no battery):
12.74 pounds (5.77kgs)
Height (overall):
8.43 inches (214mm)
Wheelbase:
15.10 inches (384mm)
Shock Length (front):
5.12 inches (128mm)
Shock Length (rear):
5.67 inches (144mm)
Tire Diameter:
6.7 x 3.3 inches (170mm x 84mm)
Wheel Diameter:
3.8 inches (97mm)
Speed Control:
Velineon

®

VXL-6s (#3485)
Motor (electric):
Velineon

®

2000kV Brushless Sensorless (4276, 6.5mm bullet connectors)
Overall Drive Ratio:
17.2 (13/52 motor pinion and spur gear)
Differential Type:
Sealed, hardened steel bevel, limited slip
Gear Pitch:
Module 1.0
Chassis Structure/Material:
3.2mm aluminum plate
Brake Type:
Electronic
Drive System:
Shaft-driven 4WD
Steering:
Double-shear bellcrank w/metal servo arm
Wheels & Tires:
3.8" wheels, pre-glued Sledgehammer

®

Tires & foam inserts; 6.7x3.8
Radio System:
2-Channel, TQi

™

2.4GHz Transmitter with TSM

®

receiver
Servo:
2275 Waterproof, metal-gear (347oz-in torque@ 6V)
Top Speed:
70+ MPH with two 3S LiPo batteries and optional gearing (sold separately)
Skill Level:
4
Battery Tray:
Narrow configuration (L/W/H): 181mm x 50mm x 29/37/45mm*
Wide configuration (L/W/H): 160mm x 57mm x 29/37/45mm*
Required Batteries:
4 "AA" (transmitter), Vehicle (see battery finder)
What's In The Box:
Sledge, Ready-To-Race

®

monster truck with Traxxas 2000kV brushless motor

VXL-6s

waterproof electronic speed control with integrated telemetry
Quick Start Guide
TQi

™

2.4GHz radio system
High quality maintenance tools
Jumper plug (for 4s battery use)
What You'll Need:
LiPo Batteries

Traxxas recommends dual 5000mAh 3-cell 11.1V Power Cell LiPo batteries for maximum performance. Dual 7600mAh 7.4V LiPo batteries or a single 6700mAh 14.8V LiPo battery will operate the vehicle with reduced performance. NiMH batteries are not supported.

LiPo Balance Charger with iD

™

Traxxas EZ-Peak® Live 4s-capable charger is recommended for easy and fast charging performance (model #2971).

AA Alkaline Batteries

Four AA alkaline batteries for the transmitter.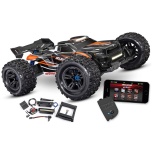 SKU:
TRX95076-4ORNG ,
EAN:
0020334950918 ,
In stock:
1
799,00 €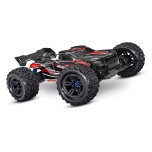 SKU:
TRX95076-4RED ,
EAN:
0020334950710 ,
In stock:
Temporarily out of stock.
799,00 €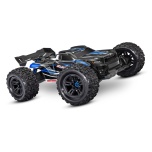 SKU:
TRX95076-4BLUE ,
EAN:
0020334950819 ,
In stock:
Temporarily out of stock.
799,00 €