Academy 1:35 Bell USMC AH-1Z "Shark Mouth"
Bell AH-1Z Viper is an American twin-engine combat helicopter, which was developed on the basis of the AH-1W SuperCobra. It was designed mainly for the needs of the US Marine Corps, but later found customers in foreign markets.
The main rotor of the helicopter is four-bladed and made of composite materials. It is powered by a pair of turbo-shaft engines T700-GE-401C, each with 1,800 horsepower. The helicopter reaches a maximum speed of 370 km / h and with external fuel tanks it can reach up to 685 km. The maximum access of the machine is more than 6,000 m and the ascent speed reaches 14 m / s.
The cockpit of the two-member crew has a tandem arrangement, while the helicopter can be piloted from the front and rear stations.
Specifications:
Crew: 2
Hull length: 17.8 m
Support rotor diameter: 14.6 m
Height: 4.37 m
Fuel capacity: 1561 liters
Payload: 2,620 kg
Max. take-off weight: 8 390 kg
Power unit: 2x turboshaft engine T700-GE-401C
Power unit output: 1,800 hp
Performance:
Top speed: 370 km / h
Cruising speed: 257 km / h
Range: 685 km with external fuel tanks
Range: 242 km
Convenient access: over 6,000m
Maximum overload: -0.5 / + 2.5 g
Armament:
1 x automatic cannon M197 caliber 20 mm with a firing diameter of 750 rounds
6 hangers
AIM-9 Sidewinder air-to-air missiles
76x unguided missiles air-ground Hydra70 caliber 70 mm
28x missiles with APKWS (laser guidance)
16x guided anti-tank missiles AGM-114A / B / C
16x guided anti-ship missiles AGM-114F
Mk 77 incendiary bombs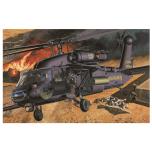 SKU:
AC-12115 ,
EAN:
603550022173 ,
In stock:
1
59,90 €