Arrma 1/10 Big Rock 3S BLX 4WD RTR
Video
Specs
| | |
| --- | --- |
| Batteries: | 5000mAh+ 35C+ 2-3S LiPo or 6-8 Cell NiMH Hardcase Battery with IC5/EC5 Connector (sold separately) |
| Battery Dimensions: | 5.5 x 2 x 1.9" (140 x 51 x 48mm) with battery mounting blocks in place |
| Chassis: | Molded Composite |
| Completion Level: | Ready-To-Run |
| Differential: | Gear |
| Drivetrain: | 4WD |
| Height: | 7.19 in (201 mm) |
| Internal Gear Ratio: | 2.85 |
| Length: | 12.87 in (327 mm) |
| Max Battery Dimensions: | 6.50 x 2 x 1.9" (165 x 51 x 48mm) with battery mounting blocks removed |
| Motor Size: | 3660 |
| Motor Type: | BLX 3200KV Brushless |
| Pinion: | 15T |
| Radio: | Spektrum STX2 2-channel |
| Scale: | 1/10 |
| Servos: | ADS-7M Waterproof Metal Gear Servo |
| Speed Control: | ARRMA BLX100 Waterproof w/IC5 battery connector |
| Spur Gear: | 57T |
| Tire Diameter: | 5.12 in (130 mm) |
| Vehicle Type: | Monster Truck |
| Water-Resistant: | Yes |
| Weight: | 6.25 lbs (2.84 kg) |
| Wheel Diameter: | 2.81 in (71.5 mm) |
| Wheel Hex Size: | 14mm |
| Wheel Type: | MT |
| Wheelbase: | 12.87 in (327mm) |
| Width: | 12.91 in (328mm) |
Omadused
Eriti vastupidav — Loodud kiireks, Loodud kestma!
Kiire, 80+ km/h
Realistlik Monster Truck auto välimus
Spektrum™ STX2® 2.4GHz raadiosüsteem
BLX100 Brushless süsteem
Kerge ligipääsuga jõuülekande moodul
Kerge ligipääsuga elektroonikamoodul
Metallhammakatega difrid
Topelt õõtshoobadega vedrustus ees ja taga
Õliamordid
Vahelaagriga keskmise veokardaani ehitus
Põhja külge kinnitatud rooliservo
Seadistatavad terasest keermevardad
Seadistatav kliirens
Seadistatavad kerekinnitused
Vastupidavad must-kroom veljed
M/T dBoots® RAGNAROK MT rehvid
Wheelie bar
Pritsmekindel elektroonika *
2-aastane piiratud tootjagarantii **
* Täpsed detailid veekindluse ja sellega seotud teemade osas leiad kasutusjuhendist

** Täpsed tootjagarantii tingimused leiad kasutusjuhendist
Müügipakend sisaldab:

(1) ARRMA 1/10 BIG ROCK™ CREW CAB 4X4 3S BLX RTR Monster Truck:

(1) Spektrum™ SRX200 2-kanaliga veekindel vastuvõtja
(1) ADS-7M veekindel, Metallhammakatega rooliservo
(1) ARRMA BLX3660 3200Kv harjadeta mootor
(1) BLX100 ESC 2S/3S IC5™ pistikuga

(1) Spektrum™ STX2 2.4GHz 2-kanaliga saatja
(1) kasutusjuhend (inglise keeles)
Lisaks vajad (ei ole komplektis):

35C 2S või 3S 35C+ kõvakestaga LiPo aku IC5™/EC5™ pistikuga
LiPo aku laadija
AA patareid saatjasse (4tk)
LiPo laadimiskott (soovitavalt)
Overview
Fully assembled and ready-to-run, the BIG ROCK™ CREW CAB 4X4 3S BLX now comes with a Spektrum™ STX2® 2.4GHz 2-channel radio system that provides many of the features found in high-end 2.4GHz radio systems — including throttle and steering reversing, throttle and steering travel adjust, and throttle limiting. The radio system also includes the Spektrum SRX200 2-channel waterproof receiver.
Accented by black chrome-plated front and rear bumpers and wheels, the BIG ROCK™ CREW CAB 4X4 3S BLX truck's long, scale crew cab body marks the epitome of street style. With the included dBoots® RAGNAROK MT tires, you'll take it on the run over dirt tracks, trails, and even muddy courses. An adjustable wheelie bar comes standard, letting you enjoy a little stunt fun along the way.
ARRMA engineers made sure this monster truck has the muscle and durability to overcome any challenge. Its transmission and chassis designs, also proven on the GRANITE™ and SENTON™ 4X4 3S BLX RTRs, deliver the toughness you'll need to take full advantage of the BLX100 brushless power system. When the 3200Kv brushless motor and 100A ESC do their thing, the BIG ROCK™ CREW CAB 4X4 3S BLX releases an avalanche of speed.
Spektrum™ STX2® 2.4GHz Radio System
2-Channel SRX200 waterproof receiver
Built-in 3-position throttle limiter
Extended range and interference-free performance
Throttle/steering reversing
Throttle/steering travel adjust
Throttle limiting
ADS-7M waterproof, metal gear servo

Max. Servo Torque @6V: 84 oz-in (6 kg-cm)
Max. Servo Speed @6V: 0.14 s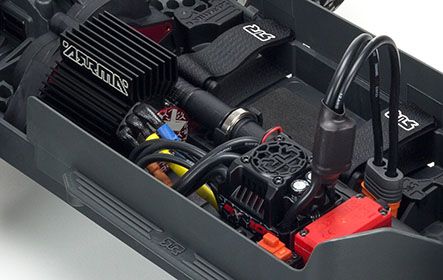 BLX100 Brushless System
BLX3660 3200Kv brushless motor
BLX100 ESC 2S/3S with IC5™ connector (EC5™ compatible)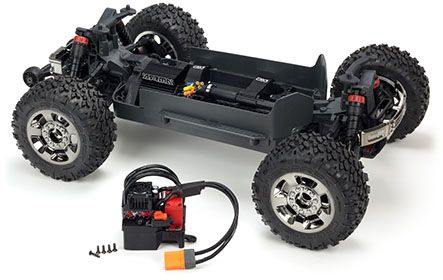 Easy-access Power Module
Detaches from chassis as a complete unit by removing one screw
Contains motor, motor plate, slipper clutch assembly and gear cover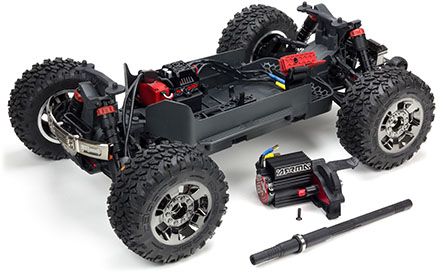 Easy-access Electronics Module
Two-piece molding screwed to the chassis contains a waterproof receiver box, servo mount, and ESC tray
Receiver mounts inside sealed module for protection from dirt and moisture
ESC screws to the top for easy maintenance and switch access
Servo mounts on the side for quick servicing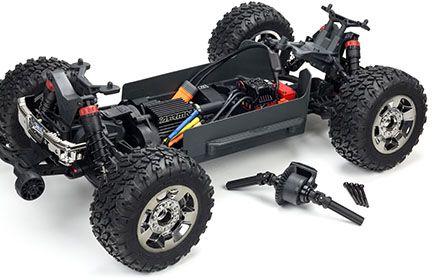 Metal-geared Differentials
Large pitch gears engineered to handle BLX brushless power
Internal metal gears chosen for extreme bashing, longevity and reliability
Easy-access front and rear diff module removal
dBoots® RAGNAROK MT Multi-surface Tires
High quality dBoots RAGNAROK MT tires, coupled with black chrome finish multi-spoke wheels give you the size and grip you need to tackle rough terrain at high speeds!