Tamiya 1:14 RC Mercedes-Benz Arocs 4151 Tipper 8x4 kit
• This is a 1/14 scale R/C model assembly kit. Length: 667mm, Width: 196mm, height: 268mm.
• The Arocs 4151 form is recreated in style by the injection molded body, including depictions of cab rails, intake duct and other details. Separate parts recreate side mirrors and visor, etc.
• Both front axles are steered, via a single servo. Wheels turn realistically at slightly different angles.
• The Tamiya 4-axle chassis has a tough ladder frame with aluminum side channels and resin cross members.
• Features a brand new truck bed section comprised of metal subframe for superb durability.
• Install the separately sold Actuator Set (Item 56545) for realistic truck bed motion.
• TR mighty-tuned motor (35T) provides twin rear axles with ample power to carry loads in the truck bed.
• The new battery case is located over the second axle, and allows access even when there are loads in the bed.
• The roof features a depiction of light pods on the visor, which can be fitted with LEDs for a realistic finish.
• 3-speed transmission can be controlled via a separately sold 4ch R/C transmitter.
• Metal leaf spring dampers with built-in coil springs provide durable suspension.
• Use with separately-sold MFC-03 (Item 56523) (or MFC-01, Item 56511) for realistic lights and sounds.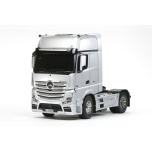 SKU:
TA-56335 ,
EAN:
4950344563357 ,
In stock:
1
429,00 €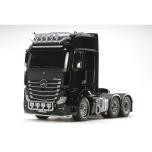 SKU:
TA-56348 ,
EAN:
4950344563487 ,
In stock:
1
479,00 €